Digitalized montage film made from 35mm archival film and audio footage // Digitalizált montázs film 35mm-es archív film és hangfelvelételekből
2019
3'12"
On view at the ISBN Gallery // Az ISBN galériában kiállítva: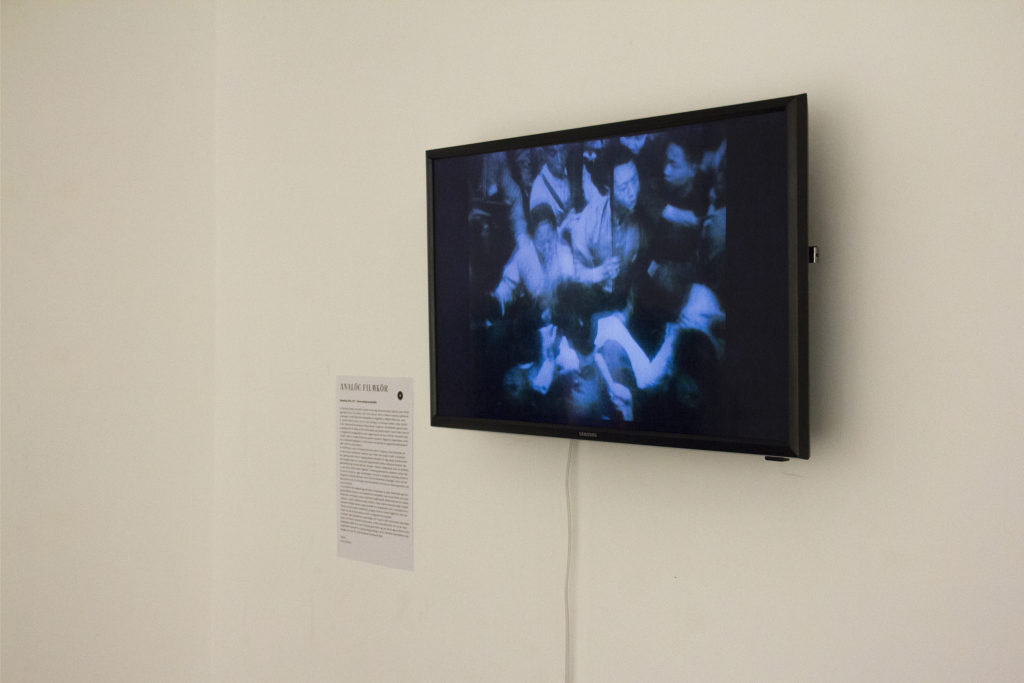 Exhibited:
• 2020: A Screening of Short Films Made by University Students (Trafó, Budapest, Hungary)
• 2019: Diversity – The College of Art and Art Theory's End of Year Exhibition – group exhibition (ISBN Gallery, Budapest, Hungary)

The narrative structure of the analogue montage film is based on counterpoint, thereby connecting subjects such as the film as a medium and power's relation to the body and the masses.
Can the application of the invention of film in society both be the documentation of reality and entertainment with fictive stories? When does this representation turn into propaganda? To what extent can the viewer's behaviour and relation to film be determined? Empathy can turn into the apathy of being entertained and of consuming when in the chaos of footage the borders of genres merge, leading to fiction and documentation to become indistinguishable.
Then in the short film, the footage's content becomes central. What and whose aim can this footage of the breakdown of order and street chaos cater for? Does viewing the chaos of society and of relationships advise one to be aware of or is it rather a platform to satisfy aggression? Power brings order and aesthetics to the human body with regulation. This ornamentics of the masses gives form and meaning to the way bodies relate to each other.
The significance of the used footage is not only their imagery but also their historical-cultural context. Who, where and for what reason did they record the exercises of the Russian army,  a couple's dance and the chaos of the 1936 Chinese civil war? This rich context is a unique gift of using archival material, which forms the base of this film's meaning.
•
A Shooting Entertainment analóg montázsfilm narratív struktúrája ellenpontozáson alapszik, olyan témáit egymásba fonva, mint például a film mint médium, illetve a hatalom viszonya a testhez és a tömeghez. Ennek fejlesztését elősegítette és megihlette az MMSZK főkurzusa , amit K. Horváth Zsolt tartott Az arc és a test politikája a mindennapi életben címen.
Először a film találmányának társadalmi felhasználását vizsgáltam. Rendeltetése egyaránt lehet a valóság dokumentálása és fiktív történtekkel való szórakoztatás? Viszont mikor fordul át a megjelenítés propagandába? A néző magatartása és viszonya a filmhez mennyiben határozható meg? Az empátia átváltozhat apatikus szórakozó, fogyasztói magatartásba, miközben a felvételek forgatagában a műfaji határok elmosódnak és megkülönböztethetetlenné válik a fikció és dokumentáció.
A rövidfilmben ezután a felvételek tartalmára kerül a hangsúly.  A rend felbomlása és az utcai káosz felvételeinek levetítése vajon milyen célt szolgál és kinek? A társadalmi és a párkapcsolati zűrzavar megtekintése óvakodásra int vagy esetleg indulatok kiélését szolgálja? Majd a 20. század egyik legjelentősebb politikus ásításának felvétele után bekövetkezik egy fordulat; láthatjuk, ahogyan a hatalom szabályzással rendre és esztétikára utasítja az emberi testet. Tágabban a hadsereg gyakorlatairól, szűkebben pedig a táncról van szó, hiszen  az, régen mindenképpen, de azóta is, az egyetlen közösség számára is elfogadott módja két ellenkező nemű fizikai érintkezésének házasságon (most már párkapcsolaton) kívül. Ez a tömegornamentika jelentést és formát ad a testek egymáshoz való viszonyulásuknak.
A montázsfilm képi világának egyenlő párja a hanganyaga. Az elején Bartók Béla egyik zongoradarabjának részlete a mozi spektakuláris hangulatába vezet be bennünket, amit aztán félbeszakít a kibontakozó káosza különböző hangfelvételek véletlenszerűnek tűnő váltakozásának. A "csapó!" kiállítások tovább erősítik a műfaji határok bizonytalanságát. Emellett visszatérő erőteljes elemek a kéjes nevetések és a puska lövések, amik a szexualitás és az erőszak szimbólumaiként érzékeltetik, ahogyan kortól és műfajtól függetlenül, ezek a kultúripar két örök érvényű eszköze a néző és a fogyasztó bevonzásának.
Az általam talált felvételeknek a jelentősége nem csupán a képi tartalmukban rejlik, hanem abban a történelmi-kulturális kontextusban, amiben azok elkészültek. Kik, hol és milyen indíttatással vették fel az orosz hadsereg gyakorlatait, egy pár táncát vagy az 1936-os kínai polgárháború káoszát? Ez a gazdag beágyazottság az archív felvételek használatának sajátossága, ami ezen film értelmezésének kontextusát képzi.
Previous digitalisation:
Screenshots // Pillanatképek: